SILVER PRICES
Silver prices are more volatile than gold prices. The reason for this being its tangible role as an industrial metal and its perceived role as a precious metal.
As An Industrial Metal
Due to its outstanding qualities, silver, has many uses as an industrial metal. Silver had a very important role in the photographic film industry though that role has now been eclipsed by the advent of the digital camera.
Silver is used extensively in electronics due to its high electrical and thermal conductivity. Its used in electrodes for electrocardiograms and other electrical appliances.
Silver is also used in batteries, superconductor applications and microcircuit markets and new uses of silver are found almost daily.
As A Precious Metal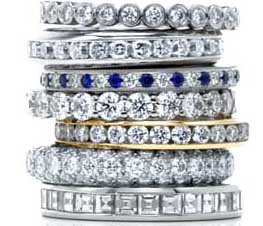 One of the most common consumer application of silver is its use in jewelry. Normally pure silver, which is actually too soft to be durable, is mixed with copper to form an alloy called sterling silver.

As a precious metal for money Silver has no equal in its widespread use. Silver coins are among the oldest examples of coined money. Though silver coins were a popular form of currency until the recent past, as of today, a very small percentage of the world's silver is used in coinage.
Future Of Silver

The future of silver prices depends on many factors like how much silver will be produced, its rate of production and its demand.

The industrial demand for silver appears to be steady. Because silver naturally occurs with other metals, future production is linked to the production of copper, lead, gold, and zinc.

In all likelihood, silver will continue to be used for special industrial applications, as well as for consumer items, such as jewelry and silverware. In addition to these traditional uses, the value of silver will also depend on new uses for the metal.

Return from Silver Prices to Jewellery XY home page