Hints & Tips on finding the Perfect
Wedding Ring Sets
to Suit your Style
Wedding ring sets are available in a huge variety of different styles, therefore, finding the perfect ones for your big day can be a daunting task.
But firstly let me explain exactly what we mean by a wedding ring set,( as there seems to be some sort of confusion about this term).
In simple terms it's a "his and her ring set". The couple can get matching plain bands, diamond bands or even different bands if they so choose.
So now your next question could be....
What do you call a matching engagement and wedding ring ?
That is a bridal ring set. (only for the bride)
Important points to consider
You are selecting the wedding rings that you and your partner will wear for the rest of your married life; therefore, they have to be a style that you both like.
You will need to consider several different elements before rushing out to purchase the wedding rings, like white gold , yellow gold or platinum
Some men do not like complicated jewelry; therefore, the wedding rings may need to be simple yet stylish.
You will need to consider your lifestyles, jobs, and overall budget when choosing the wedding rings
Identical Pairs
Choosing the set for your wedding ring is traditionally an identical pair, however, some men prefer to have a different style to their wife.
Mordern Wedding Sets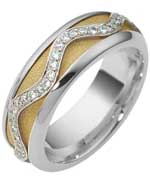 At
Elite Jewels
you have a great choice of 14k and 18k gold wedding rings, platinum wedding rings for both men and women.
Though I have personally never bought rings from them , but I do have some friends who have done business with them, and one of them bought a gorgeous wedding ring set from them.
Their variety consists of classical and diamond wedding bands to the spinning and contemporary wedding bands. They also have wedding bands in titanium.
They are certainly worth a look!
With or Without Diamonds
Diamond wedding ring sets are great, however, not always practical for men who work with their hands.
The precious stones may become damaged, and often this leads to the men removing their wedding ring.
If the woman has her heart set on a precious stone in her wedding ring, the set may need to be two different styles.
Hawaiian Heirloom Wedding Sets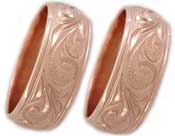 For very original and different wedding band sets check out these rings
at hawaii city.
They have great quality rings in different colors with very reasonable prices plus the option of engraving the rings as well.
They even have free shipping !
Costs
The cost of the wedding rings will vary a great deal depending on several different factors. You will need to be realistic regarding your budget.
Weddings are expensive events, and although you may want the best, getting into debt over the wedding is not advisable.
Cheap wedding rings can still look stylish, and will ensure that you have money left over to spend on other things.
There are several different options that you have to keep the price of the wedding sets to a minimum.
When looking for the ideal wedding rings you may have your heart set on diamonds ...
Diamond Wedding Sets

For great styles on diamond wedding sets check out

Trior Rings

They have an impressive selection with great prices too.

Their rings carry a 1 year warranty, free shipping and some rings also qualify for a payment plan.

But ...

Have you had a look at the great designs available nowadays with precious stones such as rubies and sapphires and at a much more cheaper price.

Cubic Zirconia wedding ring sets are ideal for bringing sparkle to the event, but without breaking the bank.

You will also need to consider the metals that the wedding rings are made with. Although gold bands were always very traditional, there are now several other options like tungsten or even silver.
Thick or Thin - Wide or Narrow
Wedding rings are traditionally thicker than other styles of jewelry, to enable them to be identified easily.
Thicker wedding bands will also ensure that the man's wedding ring does not break easily.
You will need to decide the overall style of the wedding sets that you prefer, and consider elements of both your professions and lifestyle.
Whether you want a traditional style of wedding band, or a modern and contemporary design there are wedding rings to suit.
Researching the different stones and sets which are available may help you to decide what is right for you and your budget.
Emeralds, rubies and black diamonds are all very popular options for you to choose.
Choosing designs that are popular at the time of your wedding may not be the best choice, as they will date over the years. Timeless, classic designs will still look amazing on your finger at your Golden wedding anniversary.