DIFFERENT COLORS OF GOLD


Metals are used to change the colors of gold since pure gold is always yellow.

But because pure gold is too soft for most jewelry use and must be mixed with other metals (alloys) to increase its hardness, the color can also be modified by adding varying amounts of copper, zinc, silver, nickel, platinum, and palladium.

Depending on which alloys are used, a variety of colors can be produced.

White gold is frequently plated with rhodium, a rare and more expensive metal from the platinum family to create a whiter and brighter finish.

Another practice is to plate 14K gold jewelry with 18K for an 18K look for a stronger yellow color.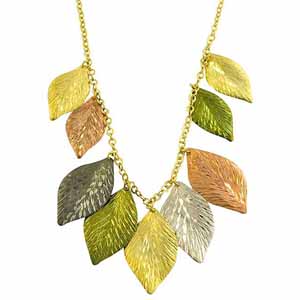 Using combinations of one or more metal alloys will result in various colors.
Several manufacturers are now producing jewelry in exciting new colors - black gold, brown gold, and blue gold to create dramatic new looks.
See the table below for the different metals used for getting the appropriate colors of gold.
| | |
| --- | --- |
| COLOR | COMPOSITION |
| Yellow Gold | Gold , Copper , Silver |
| White Gold | Gold, Nickel, Zinc, Silver, Platinum, Palladium |
| Green Gold | Gold, Silver (more than yellow gold), Copper, Zinc |
| Pink ( Red ) Gold | Gold, Copper, Sometimes a small amount of silver is used. |
---
Return to Crystal Jewellery From Colors Of Gold.
Return to All About Jewelry From Gold Colors.
---
Read more gold facts and interesting tips below:
---